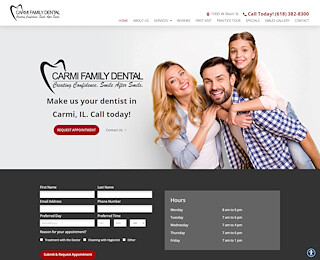 Do you need a family dentist in Carmi, IL? Get to know our team from Carmi Family Dental and see why we have a reputation for creating smiles that last. You'll love the relaxed atmosphere in our reception room and the caring way we commit to your family's dental needs. See us for your next office visit, second opinion, consultation, cleaning, or cosmetic procedure, and you'll become a believer in our commitment to your beautiful smile.
Is it Ethical to Switch Dentists?
If you're less than happy with the quality of dental care at your current provider, it's not only ethical to switch- it's a necessity. Your patient experience is important to our staff at Carmi Family Dental. As a new patient in our practice, you'll receive $40 off of your first visit and free whitening for life when you follow our recommended oral hygiene plan. Your entire family will benefit from treatment in our practice, making us a smart decision if you need to switch dentists. Feel free to explore our website to learn more about what we have to offer you as a patient at Carmi Family Dental.
What Should I Look For When Choosing a Dentist?
To avoid referrals to out-of-office care providers, be sure to choose a dentist in Carmi, IL who can meet your family's needs; routine checkups & cleanings are an excellent place to start, but they're only the foundation to a complete list of services. Carmi Family Dental is proud to provide all of the following:
Advanced technology dentistry, including hard and soft tissue laser, CEREC restorations, digital imaging, 3D printing, and more
Preventive and corrective treatments, like mouth guards, sealants, Invisalign, root canal treatment, and TMD
Aesthetic restorations, including tooth-colored fillings and crowns, pro-grade whitening, gum sculpting, dentures & implants, veneers, & smile makeovers
Special interest dentistry: Botox, dermal fillers, CGF to speed healing, sleep apnea treatment, All-On-4 Teeth in one day, sedation, painless extractions, and so much more
Affordable Dentist in Carmi, IL
We use the most advanced technology and techniques to ensure the lowest possible price on modern dentistry. Less time in the dentist chair means you'll pay less for treatment when it's time to pay your bill. We keep costs low by offering new patients ongoing specials that ensure more value for your investment. You won't find another dentist in Carmi, IL as dedicated to your family's budget as our team from Carmi Family Dental. Why not schedule your next office visit with our staff and see what you've been missing?
Beautiful, Healthy Smiles
Don't hide your smile from the world- come in and discuss your smile objectives with our team of dental experts. We can recommend cosmetic procedures and help you select from numerous options in treatment. Whether you're just looking for a dental practice for routine cleanings or you need a complete smile makeover, we're here to help you achieve your goal of a healthy, radiant smile that never goes out of style.
Dentist In Carmi IL
Carmi Family Dental
6183828300
1000 W Main St, Carmi, IL 62821-2402
View Larger Map