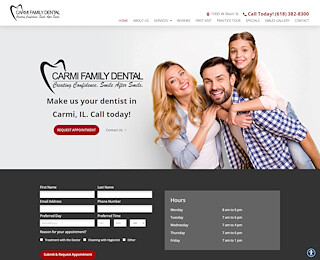 It should come as no surprise that orthodontics correct crooked teeth- the real surprise comes when you look at the numerous methods of obtaining a straight smile. At Carmi Family Dental, we are pleased to offer our patients many options in conventional and clear braces, including the #1 requested treatment option: Invisalign clear removable braces. You can own the beautiful, straight smile you've always dreamed of with affordable Invisalign in Carmi, IL. Checking into Invisalign is simple- schedule a consultation appointment and bring your list of questions.
What is Invisalign?
Clear Invisalign braces are the newest way to close gaps between teeth, straighten teeth, and improve the appearance of smiles with minor flaws. Patients of all ages gravitate toward Invisalign for several reasons:
Removable aligners
Smooth plastic profile
No soft tissue irritation
Virtually invisible
No 'railroad track' look
Fits your budget
Shorter treatment time
Pain-free office visits
If you're a candidate for Invisalign, you'll have the freedom to remove Invisalign's aligners for up to two hours each day, making brushing and flossing a simple task rather than a chore. With no peer pressure, you'll smile more often, too, since no one will know about your braces. Discover the many benefits of clear, affordable Invisalign in Carmi, IL when you reach out to our staff by phone or through our website.
Is Invisalign Just For Teens?
While orthodontics was once a treatment option reserved for teenagers, more and more adults are finding it advantageous to straighten their teeth as well. Adults of every age seek orthodontics for the following reasons:
Straight teeth improve chewing function
It's easier to brush and floss straight teeth
Realign teeth to make room for an implant
A more beautiful smile that boosts confidence
If you'd like more information about Invisalign, for yourself or your teen, meet with our team from Carmi Family Dental to find out how clear orthodontics can significantly improve the appearance of your smile. Feel free to browse our Library of Articles section on the Carmi Family Dental website where you'll learn more about how Invisalign can improve your quality of life. It's never been easier or more affordable to own the smile of your dreams- treatment starts with a single phone call or email.
Pain-Free Invisalign in Carmi, IL
Invisalign's smooth aligners are more comfortable than conventional metal brackets and bands. Invisalign fits snugly over your teeth, rather than cemented to the outside of your teeth, so that office visits are shorter as well. After the initial placement, you'll come in about every two weeks for your new aligners. Our team will replace one aligner with the next in your treatment plan, assess the position of your teeth, and schedule your next visit; it's as simple as that. Best of all, you'll forget you're wearing them after a few days- and no one else will suspect you're wearing Invisalign. Your best smiles are ahead when you opt for clear Invisalign braces.
Invisalign Carmi IL
Carmi Family Dental
6183828300
1000 W Main St, Carmi, IL 62821-2402
View Larger Map