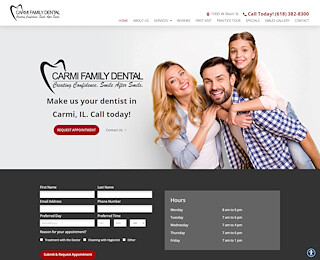 Schedule teeth whitening in Carmi, IL by calling Carmi Family Dental – we help keep teeth their whitest with professional-grade whitening that does a better job of removing stains than OTC products. For your healthiest, whitest smile, see us for regular checkups and cleanings, and we'll provide free whitening for life. You'll save a lot of money with free whitening when you make us your family's home for quality dentistry. We meet the needs of every member of your family, from children & teenagers to adults and seniors.
Is Teeth Whitening Expensive?
Depending on the dental practice you choose, the cost of treatment can vary significantly from one dentist to the next. Dental care experts recommend calling around checking on prices and comparing costs before you select a dentist – you can avoid this labor-some task by whitening at Carmi Family Dental. We appreciate your decision to see our team for your regular checkups and professional cleanings, and as a token of our thanks, we'll keep your smile glowing with pro-whitening for life just for coming in to see us when it's time for your regular checkups and cleanings. Savings add up quickly, making us a smart choice for your dental care.
Is Teeth Whitening Safe?
Our pro-grade treatment at Carmi Family Dental removes deep-seated stains left behind from food and drinks, leaving teeth their whitest – and when you opt for teeth whitening in Carmi, IL, you can select the perfect shade of white to match your goals. Meet with us for a consultation to determine whether you're a good candidate for a whitening session. With a brilliant, confidence-boosting smile, you'll be ready for anything:
School or family reunions
Date night
Wedding pictures
Career advancement
Upcoming events
Affordable Teeth Whitening in Carmi, IL
Free whitening is just one reason to choose us as your family's dental care provider – we offer a range of treatment options for patients of all ages. Let us create a dental plan for everyone in your family to ensure a lifetime of healthy, beautiful smiles. We bring more to the table than just teeth whitening:
Kids' dentistry
Clear and conventional orthodontics
Advanced dentistry
New technology
Laser treatments
CEREC restorations
Implants, dentures, & implant-supported dentures (All-On-4)
Mouth guards for sports & sleep protection
Root canal therapy
Digital Imaging
Call Today
Schedule your next checkup and cleaning at Carmi Family Dental, take our professional advice, and we'll set up a session for your future teeth whitening in Carmi, IL. It's that simple. Whiter teeth and a healthier smile are two great reasons to come in to see us. Get to know us better by requesting a free practice tour and see why we are the first choice for many of your friends and neighbors in Carmi.
Teeth Whitening Carmi IL
Carmi Family Dental
6183828300
1000 W Main St, Carmi, IL 62821-2402
View Larger Map