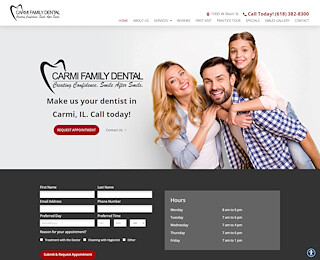 As you search for the best kids dentist in Carmi, IL, keep Carmi Family Dental in mind for pediatric dentistry. Our staff is specially trained to provide high-quality dental care to patients of all ages- including infants, toddlers, children, and teens. We protect developing teeth from decay with preventive treatments and services, such as:
Tooth Sealants
Fluoride Treatments
patient Education
Regular Checkups & Cleanings
Orthodontics
And More
Before you choose a new kids dentist in Carmi, IL, we invite you to come in and meet our team during a new patient practice tour- we'd love to get to know your family better. Make the right choice for your family by setting up checkups for your kids, teens, adults, and seniors.
Why Do My Kids Need to See a Pediatric Dentist?
Providing dental care to young patients requires training and experience- something not all dentists can offer your family. Fear of the dentist chair typically begins at an early age and is most often associated with a traumatic experience while visiting the dentist. At Carmi Family Dental, we provide a safe, relaxed, and comfortable atmosphere for children of all ages. When your child experiences positive checkups, they're more likely to look forward to their dental appointments. The end result is a more beautiful smile that will last a lifetime.
Will it Cost More to See a Pediatric Dentist?
The cost of modern dentistry varies from one dental practice to another, which is why it's crucial to your budget that you compare dentists in your community by calling around or asking friends & family where they save the most when visiting the dentist. You can avoid the labor-some task of researching local dentists by calling Carmi Family Dental when looking for a kids dentist in Carmi, IL. We'll save you money with ongoing 'specials' and discount treatment options for new patients; we're always welcoming new patients into our practice.
Affordable Kids Dentist in Carmi, IL
Choose us for our pediatric dentistry services and stay with us for a full range of treatment options and services for teens and adults as well. While it's true that you have many options when choosing a new dentist, we believe we're the best choice for your family, and offer the following as proof:
Continuing education for our staff
Smile solutions that last
Laser dentistry for comfortable office visits
Low-radiation digital imaging
Cosmetic Botox treatments
Advanced technology
CEREC restorations
Restorative dental care
Clear orthodontics
And much more
Comprehensive Pediatric Dentistry
We know how difficult it is to find one dentist to care for many different smile objectives. At Carmi Family Dental, we're experts at meeting the needs of families throughout your community. We recommend bringing your child in to see us at about six months of age to make sure their first teeth are coming in correctly and to provide brushing instruction for new parents. Let's set up a dental routine for everyone in your family to keep smiles their brightest and healthiest.
Kids Dentist Carmi IL
Carmi Family Dental
6183828300
1000 W Main St, Carmi, IL 62821-2402
View Larger Map